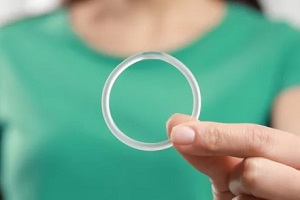 A vaginal ring, also known as a birth control ring, is a type of contraceptive device that is placed inside the vagina and works to protect pregnancy around the clock. There are two main types of vaginal rings, and they operate slightly differently. Here is a closer look at the vaginal rings available and how they work.
How Do Vaginal Rings Work?
The two main types of vaginal rings available are NuvaRing and Annovera. These rings contain the hormones estrogen and progestin, which are also found in many birth control pills and are similar to the hormones naturally made by your body. The ring is placed inside the vagina, where it releases the hormones that are absorbed into your body through the vaginal lining.
These hormones work to stop ovulation from occurring, which means there will not be an egg available for sperm to fertilize. This is what stops pregnancy from occurring. They also work to thicken cervical mucus, which can also block sperm and render it unable to swim to an egg, providing an additional layer of protection against pregnancy.
The ring should not be taken out during sex. In fact, it is made to be worn at all times, including while having sex. If you do take your ring out for any reason and it is left out of your body for more than two hours , you will not be protected from pregnancy.
NuvaRing
NuvaRing is a small and flexible ring that you place inside your vagina once a month. Women who use NuvaRing can decide whether they would like to get their period each month for added reassurance that they are not pregnant or skip it by using the ring continuously. NuvaRing contains enough hormones for 28 days of protection.
If you wish to get your period, you can wear the ring for 21 days or28 days depending on how often you want to get your period, before removing it for seven days. Then, place a new ring after seven days without using one, taking care to start and end ring usage on the same day of the week each time.
If you would rather skip your period, you can do so safely by keeping a ring in your vagina at all times. Every 28 days, you should take out your ring and replace it with a new one.
It is not unusual to experience some bleeding or spotting when you are trying to skip your period with the ring. This should go away after several months, but it is safe to use menstrual cups, pads, and tampons with your ring in place as long as you take care not to pull the ring out when removing them.
Annovera
Annovera functions very similarly to NuvaRing. However, it contains enough hormones to last for up to a year, or 13 cycles. It is normally left in the vagina for 21 days and then removed for seven days. Women can expect to get their period during the seven ring-free days. Then, the same ring should be replaced for the next 21 days.
The placement and removal days should always be the same day of the week. For example, if it is placed on a Sunday it should be removed three weeks later on a Sunday.
How to Use a Vaginal Ring
Using a vaginal ring is easy. If you are using Annovera, you need to wash the ring with a mild soap and lukewarm water before placement.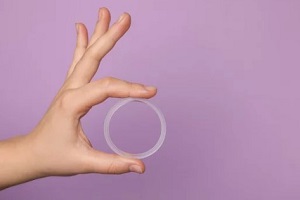 With clean hands, squeeze the sides of your ring together with your fingers and push it gently into the vagina. If you are unable to feel it while walking, it has been placed correctly. If it is uncomfortable, moving it around slightly or pushing it in deeper can help improve its placement. It is not possible to push it in too deep or lose it inside the vagina.
When it is time to remove your ring, you can simply hook your finger through it and remove it gently from the vagina. If you are using NuvaRing, it should be discarded after use. However, because Annovera can be used for multiple cycles, you should wash the ring with mild soap and lukewarm water and dry it thoroughly prior to placing it into its case for safekeeping until it is time to start using it again.
Reach Out to the Women's Health-care Professionals at Raleigh Gynecology & Wellness
For more information about whether a vaginal ring is the right birth control method for you, reach out to the experienced women's health-care professionals at Raleigh Gynecology & Wellness to schedule an appointment today.