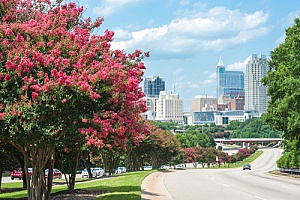 Raleigh Gynecology and Wellness, PA has been serving the women of this community for over 30 years. Dr. Frederick C. Heaton, our practice's founding physician, was a champion of compassion and professionalism. He left his busy obstetrical career in the 1980s and created a unique practice offering advanced gynecologic care for the women of Raleigh.
The practice has evolved over the last several decades, but it has stayed true to its mission. Our providers stay current with the latest advancements in gynecology, and patients can have confidence that they are receiving the most up-to-date care. Our practice utilizes evidence-based medicine, but our providers recognize the importance of the mind-body connection in women's health. We are listeners and always consider your individual needs when caring for you. By focusing solely on gynecology, our patients can have our full attention to address their non-obstetrical needs that at times can be neglected in busy OB/GYN practices.
We love getting to know you as a person, and annual wellness exams give us the opportunity to do so year after year. We know you can have difficult times as well. Being a woman has its many challenges and things can come up along the way. You may need help managing menstrual problems, finding the right birth control, guidance in starting a family, managing an abnormal pap smear, dealing with perimenopausal and menopausal symptoms, or working through sexual health issues. Let us help you navigate the hard times. We want to be your partner in a life-long health journey.
We also recognize the personal and private nature of gynecology and we focus our efforts on making patients feel more comfortable at our office. With that in mind, we are very proud to have an all-women team caring for patients. The goal of our entire team is to provide the highest standard of health care and to do it with kindness and empathy.
We aim to educate and support you not only during a visit to our office, but by providing you with helpful information here on our website. We are dedicated to addressing your needs. If you have any questions, never hesitate to contact us. Your concerns will receive immediate attention.