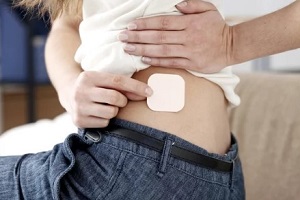 The birth control patch is a convenient method of birth control that is worn on the skin for three weeks and changed at the end of each week. During the fourth week, no patch is worn so that menstrual bleeding can occur.
The patch functions in a similar manner to combination birth control pills, releasing hormones into the bloodstream that prevent ovulation and thicken cervical mucus to stop sperm from reaching an egg.
Most women place the birth control patch on their upper outer arm, upper body, lower abdomen or buttock. Although the birth control patch can technically be placed on most areas of the body as long as your skin stays dry and is not particularly hairy, there are some important considerations to keep in mind.
Do Not Place It On Sore Or Irritated Skin
The adhesive in the hormonal birth control patch can be slightly irritating for some people; placing it on skin that is already sore or irritated is not recommended. Similar to a bandage, the adhesive in the patch tends to attract a line of lint or dirt around the edge while it is being worn.
At the end of the week when it is time to remove the pouch, it may be necessary to scrape this dirt away, which can be an unpleasant experience on skin that is already irritated.
Avoid Places Where You Often Wear Tight Clothing
Another consideration is your lifestyle and habits. The patch should not be placed in an area where it could get rubbed off by tight clothing. Therefore, if you exercise frequently, you should not place it where the band of your workout pants or sports bra rests as this could cause it to rub off accidentally and put you at risk of unwanted pregnancy.
Avoid Your Breasts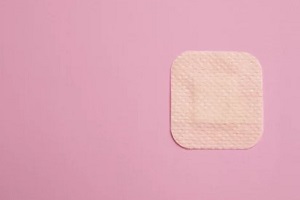 It is not recommended to place the birth control patch on your breasts for several reasons. First, the patch could be accidentally rubbed off by your bra or sexual activity. In addition, the patch requires a dry environment, and the breast area is prone to moisture from sweating.
One of the most common side effects of the patch is sore breasts, and placing a patch there could make this worse. Moreover, clinical studies have not addressed the use of the birth control patch on the breasts; placing it elsewhere may be safer.
The Patch Comes in One Color
Another consideration is the fact that the birth control patch is currently only available in one color. This beige shade will not blend in with all skin tones. Those who do not want their patch to be noticeable may choose to place it somewhere where it will generally be hidden by clothing as it can really stand out on skin color that contrasts with the patch.
Change the Position Of Your Patch Each Time
It is important to keep in mind that you should change the position of every new patch you place to reduce the chance of experiencing skin irritation. This may be unwelcome news for those who have put a lot of effort into finding the perfect location.
However, you can simply shift the patch slightly to ensure that it is not overlapping with the skin where it was placed the week before and then return it to the original position the following week if desired.
Ensure You Apply it Correctly
To apply your birth control patch, open the foil pouch and lift one corner of it using a fingernail. Then, peel the patch and its plastic liner away from the pouch. Next, peel away half of its protective clear lining and place the sticky surface of the patch onto the skin in your chosen location.
Once it is in place, remove the remainder of the liner and press the patch down firmly using the palm of your hand for a few seconds. Make sure you smooth it out and that the edges are sticking well to your skin. You should not remove the patch to swim, exercise or bathe.
Check Your Patch Regularly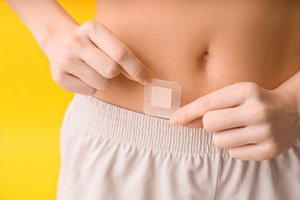 Regardless of where you choose to place your birth control patch, it will be necessary to check it regularly to ensure it remains in place. If it has become partially or fully detached and you are unable to reapply it, you should replace it with a new one right away. If the patch is no longer sticky, sticks to another surface or itself, or it has material stuck in it, you should start over with a new one.
In the event that your patch is partially or fully detached from your body for longer than 24 hours, you will need to use a backup method of birth control for one week in addition to applying a new patch.
Discuss Your Contraceptive Concerns with Raleigh Gynecology & Wellness
Schedule a consultation with the contraceptive care team at Raleigh Gynecology & Wellness to find out whether the birth control patch is a suitable option for you and to address any concerns about placement.