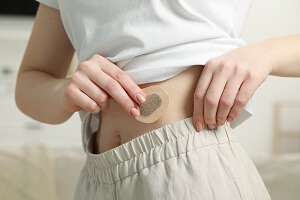 The birth control patch is a convenient form of contraception that works in a similar manner to combination birth control pills by releasing hormones into the bloodstream that stop the ovaries from releasing an egg. Available by prescription, it is worn on the body and changed once per week. With perfect use, fewer than one out of every 100 women will get pregnant during their first year using the patch.
However, it is important to understand the instructions and follow them to the letter to enjoy this high degree of protection.
Here is a closer look at how to use a birth control patch.
Choose an Appropriate Day to Begin
Your health-care provider should walk you through the process of selecting an appropriate day to begin a patch cycle. For those who are using the patch for the first time, it is best to wait until the first day of your period. Once you begin using it, you will not need any backup contraception.
However, some people opt for a Sunday start for consistency. This means that you will apply the patch on the first Sunday after your period has begun. Women who use this approach should use backup contraception during the first week.
Find a Good Place to Apply Your Patch
Think carefully about where you will place your birth control patch on your body. Some common spots are the lower abdomen, upper outer arm, and buttock. It is not a good idea to apply your patch to an area where it could get rubbed, such as beneath your bra strap.
When applying the patch, be sure your skin is clean and dry; avoid using creams, makeup, and other products on the area where you wear your patch. Avoid placing it on irritated, red, or injured skin. If your patch causes your skin to become irritated, remove it and place a new one on a different area.
Position the Patch Carefully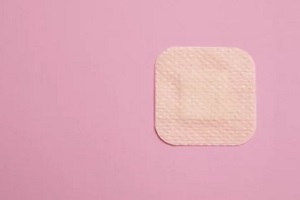 It is important to handle your patch with care to avoid damaging it. Patches come in a foil pouch that should be opened carefully on one end. Using a fingernail, lift a corner of your patch to peel it away from the pouch.
You will notice that it has a protective clear lining on it, much like a bandage. Peel back half of this lining and apply the sticky surface that is revealed to your skin. Then, remove the rest of the liner and press the patch firmly onto your skin.
To ensure it sticks well, use the palm of your hand to put pressure on it for a few seconds. Then, smooth it out and check the edges to make sure they are adhering well to your skin. The patch must be left on for seven days and should not be removed for bathing, exercising, or swimming.
Ensure Your Patch Remains in Place
It is a good idea to check your patch regularly – at least once a day – to ensure it remains in place. If it has become partially detached and cannot be reapplied, place a new one on your skin immediately.
If your patch falls off and is no longer sticky or has other materials stuck to it or is stuck to itself, you cannot reuse it. You should also avoid using any type of wrapper adhesive to keep your patch in place.
If a patch has been partially or fully detached from your skin for longer than 24 hours, either in one stretch or cumulatively across a few days, apply a new one and be sure to use backup contraception for at least one week.
Change Your Patch on the Same Day Each Week
You will need to remove your patch and apply a new one once a week on the same day each week. It is best to apply your new patch to a different part of your skin to avoid irritation, even if you just move it slightly over from where the previous one was situated.
Once you have removed your patch, fold it in half so that the sticky sides adhere to one another and then throw it away. Patches should never be flushed in the toilet. If any adhesive is stuck to your skin after removal, lotion or baby oil can be used to remove it.
Skip Your Patch Every Fourth Week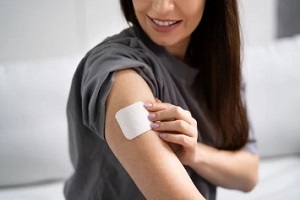 You should replace your patch once a week for three weeks, then spend a week without wearing a patch. This is the week on which you can expect to have your period.
At the end of this week, place a new patch on your skin on the same day of the week that you previously applied your patch. If you do not apply your new patch at the correct time, you will need to use backup contraception.
Reach Out to Raleigh Gynecology & Wellness
To learn more about the birth control patch and other effective methods of contraception, reach out to Raleigh Gynecology & Wellness to schedule an appointment today.