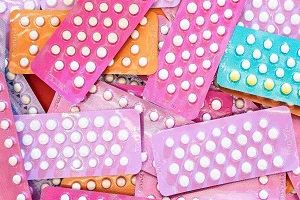 Birth control pills are currently one of the most popular types of female contraception in the United States. According to the Centers for Disease Control and Prevention, 65% of women who are at childbearing age are using some form of birth control to prevent unwanted pregnancy.
Birth control pills are preferred by many women because of their availability, effectiveness and ease of use. However, despite being referred to informally as "the pill" in a collective sense, there are many different types available, and it may take some trial and error to find the right choice for you.
What is a Combination Birth Control Pill?
Most birth control pills work by releasing hormones into a woman's body that can prevent pregnancy from occurring. Combination pills use a blend of the hormone estrogen and one of the many different types of progestin. These are the most popular types of birth control pills, and many brands make them for the U.S. market.
These pills are taken at the same time every day, and their approach to preventing pregnancy is threefold:
They suppress ovulation: When an egg is not released from the ovaries, there is no way for it to be fertilized and implanted which would result in pregnancy.
They stop sperm from reaching an egg: These pills thicken a woman's cervical mucus to a degree that prevents sperm from passing through it, which means the sperm cannot reach an egg to fertilize it.
They thin the endometrial lining: Although the first two approaches are generally enough to stop pregnancy from occurring, these pills also thin the endometrial lining of the uterus. This means that if an egg is somehow fertilized, it will have trouble implanting due to the thin lining.
For preventing pregnancy, a combination pill is 99 percent effective when used correctly, which means it must be taken at the same time each day without fail. Typical use effectiveness, which accounts for incorrect use, is 93 percent. Women who forget to take a pill on time should use a condom as a backup method.
Combination Birth Control Pill Types
Combination birth control pills fall into one of three general categories: monophasic, biphasic or triphasic.
Monophasic: These pills contain the same amount of estrogen and progestin in each active pill in the pack.
Biphasic: With a biphasic birth control pill, the levels of estrogen and progestin change one time while a woman takes the active pills. This generally involves raising the level of progestin during the second half of the cycle.
Triphasic: In triphasic birth control pills, the levels of hormones change three times during the woman's cycle. The levels of both progestin and estrogen typically change throughout the cycle in these pills.
There are also variations in the number of pills that are included in a one-month supply. Most packs contain a set number of active birth control pills and reminder pills that do not contain hormones. These reminder pills serve to help women maintain their routine of taking a pill every day.
What Are The Most Popular Brands Of Birth Control Pills?
Here's a look at some of the most popular brands of birth control pills in the U.S., listed by type.
Monophasic
Alesse
Apri
Estrostep Fe
Levora
Loestrin
Nordette
Ortho-Novum
Yaz
Yasmin
Biphasic
Triphasic
Ortho Tri-Cyclen
Caziant
Velivet
Choosing the Right Combination Birth Control Pill
Your doctor can provide valuable guidance on the right type and brand of birth control for you. While all types of birth control pills currently available are considered effective, the options available to you will depend on your lifestyle and personal health history.
For example, one possible side effect of combination birth control pills is elevated blood pressure. For women who have a history of high blood pressure, a low-dose combination pill might be the best choice. They contain less than 50 micrograms of estrogen in each active pill, but they may cause more breakthrough bleeding than their higher-dose counterparts.
Popular low-dose pill brand names in the U.S. include:
Loestrin
Apri
Lo Ovral
Yaz
Yasmin
Levora
Aviane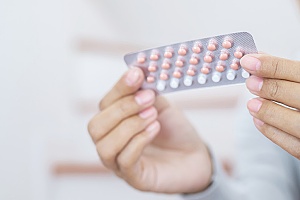 It takes approximately three months for your body to adjust to a new type of birth control pill. If you find that you experience side effects after this adjustment period, your doctor may suggest a different option.
Some women, like those with a history of stroke or smokers over the age of 35, are not good candidates for combination birth control pills. There are estrogen free forms of birth control that may work well for them, including progestin only birth control pills, Depo Provera, contraceptive Implants and IUDs.
The Side Effects of Combination Birth Control Pills
Although many women can safely use these pills without experiencing any side effects, some will experience certain symptoms or effects due to the fluctuations in their hormone levels, particularly when they first start to take the pill.
These include bleeding between periods, breast tenderness, fluid retention, weight gain, vomiting, nausea and headaches.
Schedule an Appointment to Discuss Contraceptive Care
If you are sexually active and looking for an effective birth control pill, the contraceptive care team at Raleigh Gynecology and Wellness can provide valuable guidance. Contact us today to schedule an appointment.