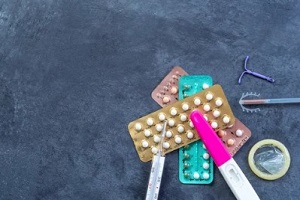 Many people are familiar with hormonal birth control pills and IUDs, but one safe and effective way of preventing pregnancy that does not get as much attention is the vaginal ring. Here's a look at everything you need to know about this convenient method of birth control.
How It Works
The vaginal ring works by addressing several factors: The ring releases the hormones estrogen and progestogen which are absorbed by the body to prevent the release of an egg every month.
These hormones also act by thickening the cervical mucus causing sperm to have a difficult time making it through the cervix. As a final line of defense, it thins the lining of the uterus to make it more difficult for a fertilized egg to implant.
The Benefits Of A Vaginal Ring
Many users appreciate that the use of the ring does not interfere with sexual activity. Because it is left in place for three weeks, foreplay is not interrupted to apply protection, as it would with using a condom.
Some women report that it helps reduce premenstrual symptoms, can help regulate the menstrual cycle and improve heavy bleeding or pain with the menses. Most women feel that it is very easy to insert and remove.
Who Can Use A Vaginal Ring
Although most women can use a vaginal ring without any issues, it is not the right choice for everyone. For patients with a history of a blood clot in a vein or artery, high blood pressure or heart or circulatory problems, a vaginal ring is not medically appropriate.
Women who are significantly overweight, have diabetes with complications, experience migraines with auras, or have had breast cancer should not use a vaginal ring. It is also not suited for women aged 35 or older who smoke or have stopped smoking within the last year. Otherwise, it is suitable for women up to age 50.
How Soon It Starts Working
Women can begin using a vaginal ring at any time during their menstrual cycle if they are certain they are not already pregnant.
The ring is normally left inserted for 21 days, after which it is removed for a seven-day break. During these seven days without the ring in place you can expect to start your period, while still being protected against pregnancy during this time.
At the end of the break, you will insert another ring to stay in for another 21 days. Some women may choose to forgo the break altogether and skip their period, but it is important to speak to your doctor about whether this is the right approach for you.
If you first insert the ring within the first five days of your period, you'll be protected against pregnancy immediately. However, if you have an irregular or very short cycle, you should use a backup method. Be sure to discuss the specifics with your doctor.
Women who begin using the ring at another point in their menstrual cycle need to use an additional form of contraception such as condoms during the first seven days of use.
For women who choose to switch to the ring from a different type of contraception, and those who have used emergency contraception recently, it's important to discuss with your doctor when to begin using the ring and how soon you can expect protection against pregnancy.
How To Place It
Inserting a vaginal ring is a simple process. Using clean hands, simply squeeze the ring between your thumb and finger and insert the tip into the vagina. Then, push your ring up gently until it reaches a comfortable position.
Once it is in place, it is a good idea to check it regularly with your fingers to ensure it is still there. If you are unable to feel it but you do not believe that it has fallen out, visit your doctor. Keep in mind, however, that a ring cannot get lost inside your body.
How To Remove It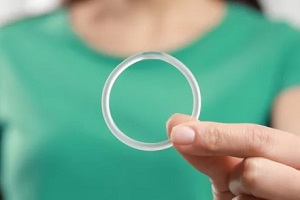 After three weeks have passed, you should begin the simple removal process. Using clean hands, place a finger inside your vagina and hook it around the edge of your vaginal ring and then gently pull it out.
Contraceptive rings should never be flushed down the toilet. Instead, place it in the bag that was provided with it and throw it away. The vaginal ring removal process should not cause any pain or bleeding. If it does or if you are unable to remove it, visit a doctor right away.
The Drawbacks Of A Vaginal Ring
The main drawback of a vaginal ring is the fact that it does not offer any protection against sexually transmitted infections. There is also a small risk of serious side effects such as blood clots or a slightly higher risk of being diagnosed with breast cancer.
Learn More About The Right Contraception For You
If you would like to find out more about the vaginal ring, contact the contraceptive care team at Raleigh Gynecology and Wellness today to discuss your contraceptive needs and explore options that are appropriate for you.