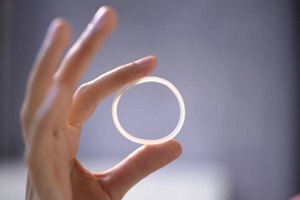 The vaginal ring is a popular hormonal birth control method that steadily releases progestin and estrogen into your system. This stops you from ovulating and thickens your cervical mucus to prevent sperm from reaching an egg.
The flexible plastic ring is inserted into the vagina, where it stays for three weeks at a time before being removed for a break of one week. If you use the vaginal ring as prescribed, it is over 99% effective at preventing pregnancy.
But to maintain this high efficacy, you must know how to properly remove the ring after the 3-week period. This straightforward process only takes a minute once you understand the simple steps.
When to Remove the Vaginal Ring
The vaginal ring works on a 28-day cycle. You insert a ring and leave it in for three weeks straight. Then, you remove the ring the same day you inserted it (21 days later). This is followed by a 1-week pause before starting a new ring.
For example, if you insert a new ring on Sunday the 1st, you would remove it on Sunday the 22nd. Your weekly ring-free break lasts from Monday the 22nd through Sunday the 28th.
On Sunday the 29th, you would insert the next ring to start the cycle again. It is essential to take the ring out after exactly 21 days of use. Leaving it in longer than the recommended three weeks makes it less effective at preventing pregnancy.
Step-by-Step Guide to Removing the Ring
Removing the vaginal ring is a quick and simple process. With a bit of practice, it should come right out painlessly. Here is a step-by-step guide:
Before Removal
Wash your hands with water and soap to prevent transferring bacteria into the vagina.
Removing the Ring
Get comfortable. You can stand with one foot raised on the toilet seat or sit on the toilet.
Reach up into your vagina with your pointer finger. Feel around the upper vaginal wall until you locate the ring.
Curl your finger slightly and hook it under the edge of the ring. You should be able to feel the entire ring with your fingertip.
Gently pull down and forward. The ring should slide smoothly out of the vagina. Don't apply force if you encounter resistance.
The removal should not hurt at all. If you experience any pain, stop and go to your gynecologist.
After Removal
Put the used ring back in the foil sleeve it originally came in. Then throw the pouch away in the garbage – do not flush it.
If desired, rinse the ring with cool water before throwing it away.
Your 1-week ring-free break now begins. You may get your period during this time.
Inserting a New Ring
After exactly seven days, insert a new ring on the same day you removed the previous one.
Use a backup method, such as condoms, for the first week of the new ring. The hormones take time to become effective.
Follow the same steps to insert the new ring as you did the first time. Push it gently into the vagina until comfortable.
Troubleshooting Ring Removal
For most women, removing the vaginal ring is uncomplicated. But, issues can occasionally arise. Here is what you should do if you run into problems:
Forgot to Remove on Time
If you leave the ring in for up to 7 days past the 3-week mark (up to 4 weeks total):
If you planned a ring-free week, remove it as soon as you remember and start your break.
If you planned continuous use without a break, remove the old ring as soon as you remember and put a new one in right away.
You remain protected against pregnancy in both cases and don't need backup contraception. But leaving the ring in for more than four weeks in a row makes it much less effective.
Ring Stuck Inside
If you cannot grasp the ring with your finger to pull it out:
Stay calm and relax your muscles. Anxiety can cause tightening that makes removal harder.
Try squatting or bearing down as if having a bowel movement. This helps push the ring lower in the vagina so it is easier to reach.
Wait a few hours and attempt the process again. The ring cannot get lost or go too far up.
If you still cannot remove it, call your gynecologist for an in-office visit. They can safely remove the ring.
Ring Falls Out
The ring can sometimes partially or fully slip out during sex, while using the bathroom, or with straining. If this happens:
Rinse the ring in cool water and reinsert it as soon as possible if It's been out for less than 3 hours.
If it's been out for over 3 hours in weeks 1 or 2, reinsert the ring and use backup contraception for seven days.
If it's been out for more than 3 hours in week 3, dispose of the ring and use a backup method of birth control. Insert a new ring no later than 7 days after the previous ring was removed or expelled.
Pay attention to symptoms such as cramping or bleeding, which could signal expulsion. See your doctor if you are concerned.
Master the Vaginal Ring with Assistance from Raleigh Gynecology & Wellness
Properly inserting, using, and removing the vaginal ring is essential for it to work effectively as your contraceptive method. While the process can seem complicated at first, it becomes second nature for most women with some practice.
If you have concerns about using the ring or have problems, don't hesitate to consult your gynecologist. The Raleigh Gynecology & Wellness team can walk you through all aspects of the vaginal ring, from insertion to removal.
We'll make sure you feel comfortable with this convenient monthly contraceptive. Contact us today at (919) 636-6670 or schedule a consultation online to discuss whether the vaginal ring is right for you, and we'll provide the guidance you need every step of the way.