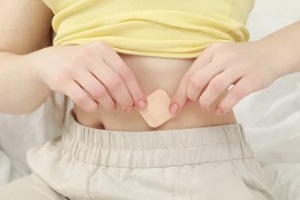 Birth control patches containing the same hormones as birth control pills release a daily dose of estrogen and progestogen to the bloodstream via the skin. Proper application of birth control patch treatment prevents pregnancy in women by preventing ovulation, much like a birth control pill.
In addition to providing birth control, there are some of the health advantages associated with patch use including the reduced incidence of risk for cancer of the bowels, ovaries, and womb.
For maximum benefits, the patch must be placed correctly on the body. Read on for more about birth control patch administration and physician recommendations for use.
5 Areas to Avoid When Placing a Patch
The patch is intended for dermal use only and should be placed onto an area of your skin that is clean and dry. One disadvantage of birth control patch application is that visibility may occur unless placed properly in a discrete area; however, placement of a birth control patch under tight clothing may rub it off. The three main places to avoid when placing a patch are:
1. Cranium
The most obvious part of the body to avoid when placing a patch is the head or cranial area. Some users complain of mild or temporary migraine side effects at the outset of treatment. Place the patch somewhere below the cranial area to limit headaches and nausea during use.
2. Neck
The neck supports the cranium and carries synopsis to the spinal cord for motor function, holds the esophagus for swallowing transmission of food, drink, and medication ingestion, and serves as a secondary corridor for breathing.
In addition, hair growth and maintenance at the back of the neck makes it a poor location for adhesive application. Placement of a patch on the neck is not advised.
3. Chest
Do not place a birth control contraceptive patch on the chest. Not only will the patch be unsightly while wearing a blouse or top that is open at the neck, release of extra hormones to the chest can lead to heart attack or other arterial health problems.
4. Breasts
The hormonally sensitive breast area of the body should also not be subject to birth control patch administration. Do not place a patch under a bra or other undergarment touching the breasts.
5. Sore Skin Areas
Any area of the body experiencing temporary or long-term irritation or injury soreness is a poor location for patch placement. Do not apply a patch to sensitive skin or where hair can be pulled or interfere with its transmission.
Proper Birth Control Patch Placement
Placement of a birth control patch should be based on comfort, discretion, and adhesive resilience. When using a patch for the first time, select a location on the body that will not be abraded by clothing, visible to others while dressed, or fall off from perspiration or sexual activity. The most common areas for birth control patch placement are the lower abdomen, hips, buttocks, side of the torso, and upper arms.
Changing the location of a birth control patch once it has been placed is not recommended, unless causing a health issue or soreness of skin. If a patch is causing discomfort, or becomes exposed while wearing clothing, or requires replacement during the cycle of use, select a new placement location so that the new patch will be less noticeable, likely to rub off, or cause discomfort.
Physician recommended prescription for use of birth control patches is a new patch each week for a 3-week period following menstruation, and 1-week without patch administration. A new birth control patch should be applied at the beginning of the subsequent 4-week cycle regardless of menstrual cycle.
Medical Risks of Patch Use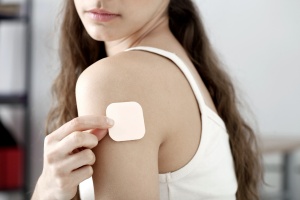 Chronic or recent illnesses, an operation, or other pharmaceutical prescriptions taken simultaneously, are all issues that should be discussed with a physician in advance. Patch use is not advisable if pregnant or breastfeeding an infant under the age of 6 weeks old or if you have been diagnosed as being obese.
Uncontrolled hypertension, heart disease and a personal or family history of blood clotting disorders are also contraindications to use of the patch. If you are 35 years of age or older and are smoking or ceased smoking less than 1-year ago, birth control patch use is also not recommended.
Raleigh Contraceptive Care Options
Contraceptive care specialists acknowledge birth control patch use may not be a suitable method of pregnancy prevention for you depending on your own and family member's medical histories.
If weekly patch replacement is an obstacle for preventive treatment, other contraceptive options such as birth control implant or intrauterine device (IUD) insertion may be an option. Other drawbacks are that birth control patches do not protect against STIs. Condoms are recommended for use with a patch for enhanced contraceptive protection.
Raleigh Gynecology & Wellness is Raleigh, North Carolina's women's health practice specializing in contraceptive care. Speak to a physician about birth control patch prescription and other contraceptive care options by scheduling an appointment with Raleigh Gynecology & Wellness.