An IUD, which is the abbreviation for "intrauterine device", is a very popular method of contraception. IUDs provide long-term, reversible birth control and are a safe and effective way to prevent pregnancy for many years without the need to take pills or make frequent trips to the doctor to get injections.
How Do IUDs Work?
The IUD is a small, plastic T-shaped device that your gynecologist will place in your uterus. It prevents pregnancy by changing the way sperm cells move so they are unable to reach an egg and fertilize it. Once properly placed in your uterus, you will not be able to feel it.
The Procedure For Getting An IUD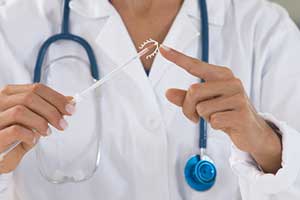 Before you have an IUD placed, your doctor will test you to ensure you are not pregnant. You will also have to be tested to rule out any pelvic infection. The IUD insertion procedure requires a visit to your doctor. Usually, you can have an IUD inserted any time during your cycle. However, your cervix is most open while you are menstruating, and that may be the most comfortable time for you to have one placed.
Most women tolerate IUD placement quite well. You will lay on an examining table while the doctor uses a speculum in your vagina to hold it open. The doctor will insert a small tube holding the IUD into your vagina and move it up through your cervix and into your uterus. Once the IUD is placed in the proper position, the doctor will remove the tube, leaving the IUD in place.
The IUD has small strings attached to it which will hang 1-2 inches into the vagina. These strings are what you will use to periodically check to be sure your IUD is still in place. On rare occasions, the IUD may come out of the uterus on its own, and you will need to visit your doctor for an examination and replacement. During the procedure, you may feel crampy and experience some bleeding. These symptoms will gradually improve over the next few days to weeks.
Two Types Of IUD
In the United States, two categories of IUDs are available. One is a copper IUD, the other is a hormonal IUD.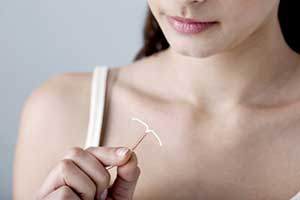 Copper IUD
One type of IUD is wrapped in copper. If you have a copper IUD inserted within five days of unprotected sex, it will prevent you from becoming pregnant. Also, a copper IUD will provide effective birth control for up to ten years.
Hormonal IUD
Another type of IUD contains a hormone called Levonogestrel, which is a progestin. Like the copper IUD, the hormonal IUD impedes the sperm from reaching the egg. The hormones on the hormonal IUD also thicken the cervical mucus so that it blocks and traps sperm before it reaches the egg. Some hormonal IUDs also prevent eggs from leaving your ovaries, depriving the sperm of any egg to fertilize.
If you have an IUD placed while you are menstruating, it will become effective immediately. If you have one placed at another time during your cycle, it can take up to 7 days to be effective. The hormonal IUD is effective for three to five years. The length of time of effectiveness depends on the specific type of hormonal IUD you use.
Advantages Of IUDs Over Other Forms Of Contraception
Here are some of the top advantages IUDs have over other forms of contraception.
Immediate Fertility Possible
When you are ready to get pregnant, your doctor can quickly and easily remove it. Immediately after the IUD is removed, you can become pregnant.
Provides Effective Birth Control Option When Other Options Are Not Suitable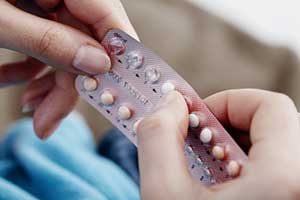 IUDs are 99% effective in preventing pregnancy. Unlike oral contraceptives, IUDs are suitable for women who are breastfeeding. Copper IUDs should not be used by women with allergies to copper or who have Wilson's disease (a condition where your body holds too much copper).
IUDs are considered safe for women who have contraindications to other forms of birth control, like birth control pills. These may include a history of hypertension, blood clots or certain types of Migraine headaches.
Convenient
Once you have an IUD, you never have to remember to take a pill or schedule a trip to your doctor for an injection. When you are ready for sexual intercourse with your partner, neither of you will even realize that it is there.
Inexpensive
The only expense is the initial placement and a follow-up exam. After that, you incur no additional expenses until you are ready to have it removed.
Speak With The Raleigh Gynecologists For More Information
When you are considering the best type of contraception for yourself, IUDs offer many advantages over other forms of birth control. Be sure to consult with the experts at Raleigh Gynecology and Wellness.
At Raleigh Gynecology, your health is our first priority. We will work with you to evaluate your lifestyle and overall health to determine the best form of contraception for you. Give Raleigh Gynecology a call at 919.636.6670 or schedule an appointment online.