A GYN wellness screening for women is the best way to detect signs of serious illness or abnormalities in the female body. If you are a sexually active woman, your GYN wellness screening will include a pelvic exam to check the health of your uterus, cervix, fallopian tubes, ovaries and bladder.
Depending on your age, your wellness exam will include a number of other screenings and tests to detect health issues and preventive vaccines to fight diseases that commonly develop in women in your age group. For those reasons, an annual wellness screening is recommended for most women.
What Does A GYN Wellness Screening Involve?
A GYN wellness screening involves a wellness exam and a panoply of screenings and tests that are appropriate for your age and lifestyle. Your doctor also will gather information about your health and medical history to determine what other screenings may be necessary based on your individual health profile.
As indicated earlier, your gynecologist will perform a breast and pelvic exam which will include a pap smear beginning at age 21. Your wellness screening likely will include taking your blood pressure, blood work, discussing your contraception options or fertility issues, and STD testing to name a few. Your gynecologist can also provide guidance regarding any matters related to your health.
How Often Should A Woman Have A GYN Wellness Screening?
In general, women should have a GYN wellness screening every year beginning around puberty.
When Should You Begin Annual GYN Wellness Screenings?
Your first screening should occur at puberty so your doctor can evaluate your development and advise you on good hygiene practices. Once you are sexually active, you should have annual GYN
wellness screenings.
Why Is An Annual GYN Wellness Screening Important For Women?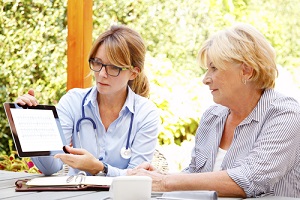 Regardless of your age, the first wellness exam is important. Not only is it the best way to detect health issues that may be developing in your body, but your first exam establishes a snapshot of your health that serves as a starting point going forward.
Once your baseline is established, you and your doctor will be able to identify and evaluate changes in your health as you age. After you have become sexually active, your first wellness screening will include the pelvic exam, pap smear and breast exam previously described . These examinations occur during every GYN wellness screening for most of the rest of your life.
These examinations are critical to early detection of serious reproductive health conditions in women. Your body gradually changes with age. These changes are normal. However, sudden or unusual changes are likely to warrant closer examination.
The following are several reasons why an annual wellness exam is important:
It is a great way for you to establish a doctor-patient relationship with your gynecologist. Feeling comfortable with your doctors encourages you to discuss your questions and symptoms with them. This is especially important when you are being examined by your gynecologist and medical staff because of the highly intimate nature of that relationship. After all, your gynecologist will be examining the most private of the private parts of your body. Many health conditions that affect female health have few symptoms that you can detect in private by yourself. You are more likely to have regular breast and pelvic exams along with important frank conversations about your lifestyle with a gynecologist you trust. It gives you the best chance of early detection of dangerous health conditions before they become deadly.
Your gynecologist is a specialist in women's health. During your annual visits, you will be asking questions pertaining to the most intimate matters. Your doctor will provide clear answers based on the doctor's expertise regarding women's health. This expertise enables you to make informed decisions about what is best when it comes to your own health.
As an expert in women's health, your gynecologist is knowledgeable about the newest science and medical breakthroughs. Medical technology is constantly changing with improvements in diagnostic techniques, disease treatments, contraception options and many other testing options. By keeping up with your annual GYN wellness screenings, you benefit from these cutting edge innovations.
If you are starting a family or already have children, it is a good idea to make your GYN wellness screening an important part of your family planning. Having a solid relationship with your gynecologist as you plan a pregnancy and during your pregnancy helps with preventative, prenatal and after care for you and your baby.
An annual visit also allows you to check your health condition and keep current on your vaccinations. As you enter menopause, your wellness screening will begin to focus on other diseases such as colon cancer and osteoporosis. You will be able to get vaccines for diseases like pneumonia and shingles which can be devastating for an older woman, and catch up on other vaccines that you missed in childhood or which are no longer effective.
Contact Raleigh Gynecology & Wellness For More Information
At Raleigh Gynecology and Wellness, you will find women's health specialists who are caring and interested in helping you get the best health care possible. Contact them for more information and to schedule an appointment.