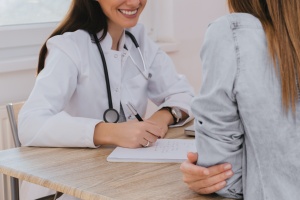 Menstruation can be a challenging time of the month for many women. Between the symptoms of premenstrual syndrome and the bleeding itself, some women may wish that their periods could come less often. However, having infrequent menstrual periods could signify a menstrual disorder that needs to be diagnosed and treated by a doctor.
What Is Oligomenorrhea?
When a woman of childbearing age experiences infrequent menstrual periods, she may have oligomenorrhea. Periods typically occur every 21 to 35 days, and some variation within this range is considered normal. Therefore, a woman who often falls outside the high end of this range may be diagnosed with oligomenorrhea.
Women who go longer than 35 days without a period and are not taking birth control medication should see their doctor, as should women who experience sudden changes to their cycle. Women with oligomenorrhea may also experience periods that are lighter than usual.
Oligomenorrhea can make it more difficult for a woman to become pregnant, so uncovering its cause is particularly important if you are trying to start a family.
How Is Oligomenorrhea Diagnosed?
Oligomenorrhea is a term used to describe infrequent menstruation, and it is typically diagnosed following a review of a woman's menstrual history. Your doctor might ask questions about your health as well as the reproductive health of other women in your family, such as your mother, sisters, or aunts. Your doctor will discuss your symptoms with you and may ask about your sexual history and any pregnancies or births you have had, along with any medications you take, and surgeries you have undergone.
As a medical diagnosis, it refers to a normal menstrual cycle changing and lasting for more than 35 days or experiencing fewer than nine periods in the span of a year.
After being diagnosed with oligomenorrhea, it is important to determine its cause, some of which are considered relatively harmless. The hormones influencing the menstrual cycle can be affected temporarily by different factors, and periods could return to normal after a short time. However, in some cases, it could require medical treatment. Depending on the suspected cause, a physical exam, ultrasound imaging, or blood tests may be used to learn more about it.
The Causes of Oligomenorrhea
Below are some of the main causes of oligomenorrhea.
Pregnancy
One of the more common causes of a delayed menstrual cycle is pregnancy. If you suspect that this could be the cause of your period's delay, you should take a pregnancy test to rule out this possibility.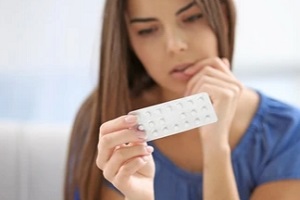 Hormonal Birth Control
Oligomenorrhea is one of the known side effects of hormonal birth control pills. Around three to six months after you start taking birth control pills, you may begin to notice increasingly lighter periods. Some women report that their periods stop entirely. Thus, it is important to discuss this with your doctor if you have any concerns.
Age
In adolescent girls who are just beginning to get their period, it is not uncommon for their cycle to be irregular at first, and this may include periods that are spaced out longer than a typical mature woman would experience. In addition, oligomenorrhea may be seen in perimenopausal women because of fluctuations to hormone levels that occur during this phase of life.
Body Chemistry
Oligomenorrhea is common in women who have high levels of the protein prolactin in their blood as well as those who take certain types of medications known to decrease menstruation, such as antiepileptics and antipsychotics.
High Activity Levels
Young women who participate in heavy exercise and intense sports, such as marathon runners, may develop oligomenorrhea.
Eating Disorders
Women who have eating disorders, like bulimia or anorexia nervosa, may experience infrequent menstruation. Malnourishment is another common cause of oligomenorrhea.
Health Conditions
A light flow or a missed menstrual cycle could indicate that a woman has polycystic ovary syndrome, or PCOS. It may also occur in women who have thyroid problems or diabetes.
How Is Oligomenorrhea Treated?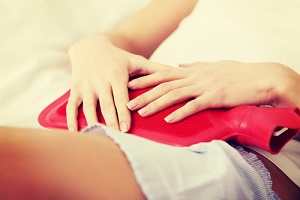 It is important to keep in mind that just one missed cycle or light flow is not usually a problem. Moreover, oligomenorrhea is not considered serious on its own. It may be possible to adjust your menstrual period with help from hormonal birth control or progestin.
However, in cases where oligomenorrhea is caused by an underlying problem, treating that problem can restore menstrual regularity. For example, women whose oligomenorrhea is caused by an eating disorder may find that their periods return to normal once they have treated that disorder, while women whose problem is caused by excessive workouts might consider reducing their exercise regimen.
Get In Touch With Raleigh Gynecology & Wellness
If you have any concerns about your cycle or reproductive health, reach out to the compassionate team of experienced women's health professionals at Raleigh Gynecology & Wellness. We offer specialized care for women of all ages for everything from menstrual disorders to fertility issues.