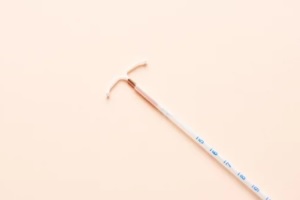 An IUD (intrauterine device) is a type of contraceptive device that is relatively small and T-shaped that your doctor will put into your uterus. IUDs are over 99% effective at pregnancy prevention and can last anywhere from 3-10 years, depending on which one you choose.
If you're looking for a reliable, low-maintenance, and long-term contraceptive option, an IUD may suit you. Two categories of IUDs are available: the hormonal and the copper IUD.
Hormonal IUDs contain the hormone progestin, which causes the cervical mucus to thicken, thereby blocking sperm from reaching an egg. The copper IUD doesn't have hormones but uses copper ions acting as a spermicide. Both types also create changes in the uterine lining making it difficult for an egg to implant.
Hormonal IUDs
You can find four hormonal IUDs in the U.S.: Kyleena, Mirena, Skyla, and Liletta. They all work the same way by slowly releasing progestin into your uterus.
Mirena and Liletta can prevent pregnancy for up to eight years with 52 mg of levonorgestrel released over time. Kyleena is effective for up to five years with a dose of 19.5 mg, while Skyla lasts for three years with 13.5 mg of levonorgestrel.
The pros of hormonal IUDs are that they may make your periods lighter and shorter or stop them altogether. Many women report that hormonal IUDs help reduce menstrual cramps as well.
The cons are that for the first 3-6 months, you may experience irregular bleeding, spotting, or cramping as your body adjusts. Some other potential side effects include headaches, acne, breast tenderness, mood changes, and ovarian cysts.
Copper IUD
Currently, ParaGard is the only brand of copper IUD that can be found in the United States. It contains no hormones but uses copper wire coiled around the stem and copper sleeves on the arms release copper ions continuously.
ParaGard is over 99% effective at helping you avoid pregnancy and can work for up to 10 years, the longest duration of any IUD.
The main advantage of ParaGard is that it lasts so long, meaning you don't have to think about birth control for a whole decade once it's inserted. It also contains no hormones, so you don't have to worry about hormonal side effects or interactions with other medications.
The potential downsides are that copper IUDs may cause heavier, more painful menstrual periods and cramping for some women.
Getting an IUD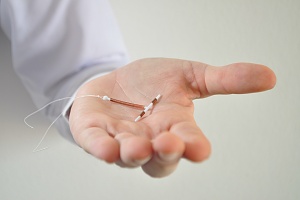 The insertion process itself only takes a few minutes. Your doctor will use a speculum to access your cervix, then insert the folded-up IUD through the cervix into your uterus. You may feel some mild cramping or pinching during insertion. Taking ibuprofen an hour before can help minimize discomfort.
You'll likely experience some cramping and spotting over the following few days as your uterus adapts to the IUD. Using a heating pad and taking ibuprofen as needed can provide relief.
It's normal for the first 3-6 months to be accompanied by irregular bleeding and spotting between periods. By your first follow-up visit, any side effects should have improved.
Your doctor will check that your IUD is positioned correctly at your annual exams. You shouldn't feel the IUD itself – only the thin strings at the opening of your cervix.
You can check your strings monthly to ensure your IUD hasn't become displaced or expelled, but not every patient can feel their IUD strings.If you have concerns that your IUD is not in place,,reach out to your doctor as soon as possible.
Risks and Complications
IUDs are highly effective and very safe, but there are some rare risks to be aware of. Expulsion, or the IUD falling out of place, occurs in 2-10% of women, most often in the first year. If this happens, you'll no longer be protected from pregnancy.
Perforation is when the IUD punctures the uterine wall, which happens in less than 1% of insertions. This requires surgical removal. Infection occurs within the first few weeks after insertion in less than 1% of women. See your doctor promptly if you have pain, fever, or unusual discharge which could indicate infection.
If you become pregnant with an IUD, the chances of an ectopic pregnancy increase significantly. An ectopic pregnancy is when the fertilized embryo ends up implanted outside the uterus and isn't viable. An IUD won't cause birth defects, but your doctor will need to remove the IUD early in pregnancy.
Removal and Replacement
IUDs must be replaced once they pass their FDA-approved duration, anywhere from 3 to 10 years. The removal process only takes a minute or two; most women report it's less uncomfortable than insertion. Your doctor simply pulls on the IUD strings to slide the device out through your cervix.
If you wish to continue using an IUD, a new one can be inserted right after removing the old one. Your uterus will still be dilated from the removal, allowing for easier insertion.
Just be aware that getting a new IUD could restart the adjustment phase of irregular bleeding and spotting. This adjustment phase is typically much shorter compared with the first insertion.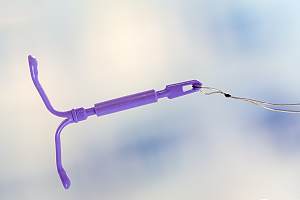 Deciding if an IUD is the right contraceptive option is an important health decision. Both the hormonal and the copper IUD are over 99% effective and generally safe, so take your time to determine which device best matches your needs and lifestyle.
Discuss all your choices thoroughly with your gynecologist. With an IUD properly in place, you can enjoy years of highly reliable birth control and pregnancy prevention.
Decide on the Best IUD for Your Needs with Expertise from Raleigh Gynecology & Wellness
So many birth control options are available now that deciding which is right for your needs can feel overwhelming. But when it comes to highly effective, long-lasting, and reversible contraception, IUDs are a cut above the rest.
Both hormonal and the copper IUD prevent pregnancy for 3-10 years at a time, freeing you from daily pills, patches, or shots. Raleigh Gynecology & Wellness has years of experience helping patients choose the best IUD option for their lifestyles and reproductive health goals.
Contact us today at (919) 636-6670 or schedule a consultation online so we can answer all your questions and help you navigate the IUD selection confidently.