If you are experiencing pelvic organ prolapse, incontinence, or pelvic pain, your doctor may suggest pelvic floor physical therapy as a potential treatment.
The pelvic floor is a group of muscles that lines the pelvis and supports your pelvic organs, provides sexual function, and controls your bowel and bladder. Like all muscles, your pelvic floor can become weak or tight or lose motor control due to a wide variety of causes, and this can lead to pain and other health issues.
Pelvic floor physical therapy is devoted to evaluating and treating pelvic floor problems. It works in much the same way as traditional physical therapy for injuries to other muscles in the body and involves performing exercises and using other approaches to help restore normal functioning.
Top Signs of Problems That Can Be Alleviated With Pelvic Floor Physical Therapy
Here are some of the top signs that you may be experiencing a problem that pelvic floor physical therapy could help alleviate.
Urinary Leakage or Incontinence
One of the biggest signs that you may need pelvic floor therapy is leakage of urine with exertion. For example, if urine leaks in any amount when you sneeze, lift weights, cough, jump, or get up from a seated position, consult your doctor.
A Feeling of Heaviness or Something Falling From the Pelvis
If it sometimes feels as though something may be falling out of your pelvis or is not in the right place, you may need pelvic floor therapy. This may occur only with certain movements or it may be a constant sensation.
Frequent Urination
If you constantly need to use the bathroom and find yourself obsessively using the restroom before leaving the house or you awake frequently during the night to use the bathroom, it could indicate a pelvic floor problem that can be addressed by therapy.
Pelvic Pain
If you feel intermittent or constant pain in your pelvic region or pubic bone or you notice pain during gynecological exams when inserting tampons, or during sexual penetration, discuss your symptoms with your gynecologist.
Unresolved Lower Back or Hip Pain
If you have experienced lower back or hip pain in the past that was attributed to another cause but treatment was unsuccessful, the issue could stem from a pelvic floor issue that requires physical therapy to correct.
A Feeling of Incomplete Emptying
If you find yourself feeling as though you still have the urge to urinate even after recently emptying your bladder, this may indicate pelvic floor problems. Feeling a strong urge to urinate but being unable to empty the bladder is another sign.
Postpartum Issues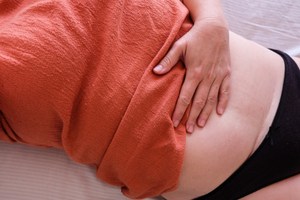 Pelvic floor scarring from tears during labor or an episiotomy, C-section scars, and diastasis recti are all common occurrences following labor and childbirth. Many women believe that these issues will go away on their own, but pelvic floor therapy can help to promote faster healing and prevent further complications from occurring.
What Should You Do If You Notice These Signs?
The first thing you should do if you are experiencing any of these signs is to make an appointment with your gynecologist to discuss them. They will review your symptoms and perform an exam to rule out other causes. Then, they will refer you to a pelvic floor physical therapist.
What Happens In Pelvic Floor Therapy?
At your first visit with your therapist, you will be asked to fill out questionnaires about your general health and pelvic floor symptoms to help your therapist understand your current condition and treatment goals.
Then, they will interview you and evaluate you with a physical exam to get a better idea of what is causing your problems and the most efficient approach to correcting them.
Your therapist will design an individualized exercise program that addresses your concerns. This often includes Kegel exercises, which can strengthen your pelvic floor and improve conditions such as prolapse and incontinence. You will learn the right way to perform these exercises and may be asked to do these at home.
You may also be asked to perform exercises aimed at improving your posture, hip flexibility, and back strength depending on the problems that you are experiencing. Biofeedback and other approaches might also be used.
How Long Does It Take to See Results?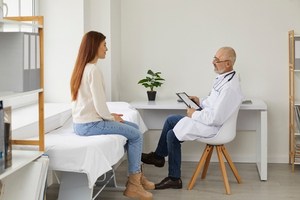 The course of treatment varies by patient, but the average person will need around 8 to 16 hour-long sessions to restore normal functioning. If your condition is difficult to address, it may take additional sessions.
Therapists also teach patients the correct way to perform exercises and encourage them to do them on their own. This may mean that some women will need to continue performing certain movements after they have completed therapy.
Reach Out to the Women's Healthcare Team
To discuss your symptoms and find out whether pelvic floor therapy can help, make an appointment with the experienced women's healthcare team at Raleigh Gynecology & Wellness today.