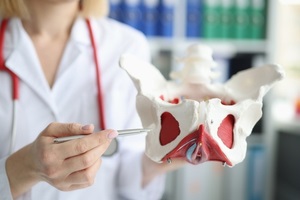 If you are experiencing some form of pelvic floor dysfunction, your doctor may have recommended that you undergo pelvic floor therapy. This treatment can help women who have pelvic floor muscle weakness or tightness and related problems that impact their sexual function, bowel movements, and urination.
Whether the problem is due to childbirth, aging, stress, or other factors, pelvic floor physical therapy is a minimally invasive treatment that can help women with urinary or fecal incontinence, pelvic organ prolapse, or painful intercourse.
Pelvic floor therapy is similar to the type of physical therapy people undergo to recover from a sports injury; the main difference is the area being targeted. However, it may be helpful to have a clear idea of what to expect when you go to your pelvic floor therapy sessions. Here is a look at the typical procedure for pelvic floor therapy treatment.
Your First Visit
At your first visit, you will be evaluated to assess your condition and develop a treatment plan. You will normally have to fill out some paperwork related to your insurance and medical history. When your appointment begins, a therapist will take you into a private room for your therapy.
In the Examination Room
At the beginning of your first visit, you will have a short conversation with your therapist about your reasons for needing therapy. Depending on the problems you are experiencing, you may need to discuss the amount of pain you feel during activities such as sexual intercourse or using tampons, how many times you go to the bathroom eachr day, your eating and drinking habits, and other details.
You may then undergo an evaluation that involves moving your body around to see if your hips, back, or core may be playing a role in your pelvic floor condition.
There may also be an internal exam. Many clinics give you the option of having another person present during the internal examination, whether it is someone you have brought with you for support or another clinic worker. You may also decline to have another person present or decline the internal exam altogether. Although the internal exam can provide the therapist with a clearer picture of your condition, you will still receive treatment if you decide against it.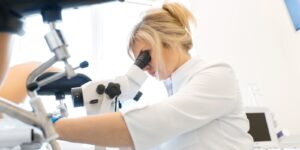 For the internal exam, you will undress from the waist down and cover yourself with provided sheets. The therapist may ask you to perform functions such as bearing down, coughing, or Kegels, which involve squeezing your vaginal muscles like you would to stop the flow of urine. The therapist may also feel around externally to identify any tight spots such as muscle knots.
If you agree, they might also insert a gloved and lubricated finger to internally assess your muscles. You may be asked to perform another Kegel so they can assess your strength and endurance.
The internal exam is important because women have three layers to their pelvic floor. Different exercises can be used to target and strengthen the specific layers of concern for more effective treatment. However, you can also describe your symptoms to your therapist in detail if you do not wish to undergo the pelvic internal examination.
Then, you will be asked to get dressed and prepare for the rest of the appointment. Your therapist will then assess the muscles and joints in your back and hips. This may involve seeing how you move with flexibility and range-of-motion testing and determining your strength using manual muscle testing.
The results of this assessment will be used to draft your plan of care and determine how often you need to visit for treatment. You may also be provided with some exercises to perform at home that will bring you closer to your goals.
During Follow-Up Sessions
During your subsequent pelvic floor therapy sessions, the focus will be on treating your symptoms. This will usually entail treatments such as exercises, manual therapy, and relaxation techniques. In some cases, electronic therapies may be used. For example, biofeedback, which entails applying small and painless electrodes to the areas being treated, can improve bladder function. Lifestyle modifications and advice may also be provided.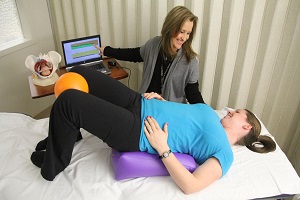 There may be some discomfort during some parts of treatment, but it should not be painful. However, you may be asked during your assessment to reproduce your pain symptoms. For example, if you feel pain in your lower back when you bend over, the physiotherapist may need to ask you to bend over so they can assess how your back is moving and what could be causing your pain. This should not aggravate your symptoms or create additional pain after your session.
You might also experience some mild discomfort while performing prescribed exercises at home, but they should not be painful.
Reach Out to the Women's Healthcare Team
Initiating pelvic floor therapy early can help stop symptoms from getting worse and allow you to return to your normal lifestyle more quickly. If you are noticing symptoms that interfere with your daily functioning, including pain during intercourse, pelvic organ prolapse, or incontinence, reach out to the women's healthcare team at Raleigh Gynecology & Wellness today.