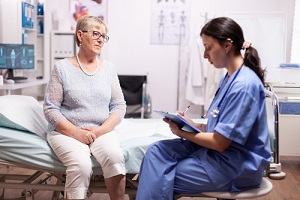 Most people instinctively want to see a doctor when they are experiencing unusual symptoms, such as bleeding between periods, pain in the pelvis region or abnormal vaginal discharge. While visiting an obstetrician-gynecologist (OB-GYN) is wise when experiencing complex or ongoing conditions, many common gynecologic problems can be diagnosed and treated by a nurse practitioner (NP).
What Is a Nurse Practitioner?
A nurse practitioner is a type of healthcare professional that offers a wide range of services, including primary care, acute care and specialty care services. The role of an NP can change based on his or her environment. In a hospital setting, a NP may help care for sick patients who have been admitted to the hospital, have suffered injuries or are undergoing surgical procedures.
NPs are also permitted to order diagnostic and lab tests to help in the diagnosis process. They may also debride wounds, put casts on injuries or assist in intubation. NPs have the knowledge and skill needed to diagnose and treat both short-term and long-term conditions. They may also specialize in specific practice areas, such as pediatrics, orthopedics, psychiatry, gerontology or oncology.
To become a NP, a person must complete a Bachelor's of Science in Nursing (BSN) program, as well as a Master's of Science in Nursing (MSN) degree or a Doctor of Nursing Practice (DNP) degree. Many states require nurse practitioners to obtain their license before they can practice in their state. Requirements can vary by location, but NPs are often required to renew their license on a regular basis.
What Is the Difference Between a NP and A Doctor?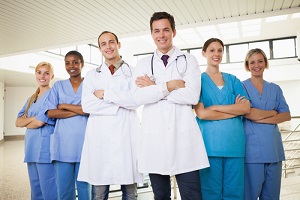 There are many similarities between NPs and doctors, but these two professions also have distinct differences. The first difference is the education and training received by each group. Doctors generally go to school and train longer than NPs. According to the American Academy of Family Physicians, it takes an average of 11 post-secondary years of training and education to become a MD or a DO. In comparison, it takes about six to eight years to become a NP.
There are also some similarities and differences in the work environment of both professionals. Both doctors and NPs work in a range of healthcare facilities, such as clinics, community health centers, hospitals, college campuses and private practices.
One of the biggest differences in how each performs in their work environment is the physical component. NPs often spend a lot of their day on their feet, providing physical care to patients in need while doctors spend a lot of time listening to patients concerns bedside.
When Should I See a Nurse Practitioner?
Seeking care from a professional with the title "doctor" is not always necessary, especially when it comes to routine exams and procedures. Nurse practitioners are just as knowledgeable and skilled in their field and can often see patients sooner than doctors.
NPs are often known for their great bedside manner. They are commonly referred to as Advanced Practice Registered Nurses (APRN) due to their extensive healthcare background and ability to care for patients at their bedsides, whether it is at home, in a hospital or another healthcare setting.
Some of the most common services that NPs offer include:
Annual checkups, including pap smears and breast exams
Vaccinations
Routine screenings
Diagnosis and treatment of minor conditions or illnesses
When it comes to pressing gynecologic problems, many women want to see a healthcare professional as soon as possible. Nurse practitioners are often able to see patients quickly to prevent delays in treatment. Visiting a NP can be comfortable and convenient for women who have concerns about their health and would like to speak with a women's health provider.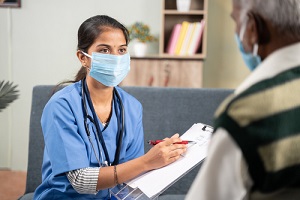 NPss that work in women's health are equipped to provide many common services with or without supervision from a doctor. These services may include pelvic exams, sexual health counseling, contraception counseling, mammography referrals, issues relating to menopause and age-appropriate screening tests. They may also address issues related to infertility, gynecology care after cancer and LGBT reproductive health.
Schedule An Appointment Today With A Nurse Practitioner
NPs play a key role in promoting better health and wellness for women of all ages. These essential healthcare workers screen women for sexually transmitted infections (STIs), depression, cancer and domestic abuse. They also provide care for lesbian and transgender women, as well as for menopausal women. NPs are also dedicated to educating women about a wide range of nutrition and wellness topics.
At Raleigh Gynecology & Wellness, our nurse practitioners are an important part of our healthcare team. Contact us today to schedule an appointment for routine care or to speak to us about any health concerns that you may have. Our highly trained physicians and NPs provide services to women of all ages and assist in the management of many GYN conditions and disorders.