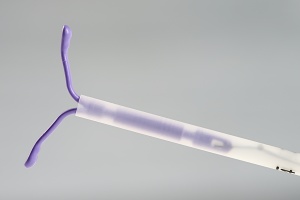 Your IUD can be removed whenever you are ready to become pregnant. Once it is removed, you may be immediately fertile. How fertile are you after IUD removal and how quickly you can become pregnant depends on the type of device you have, but in most cases, you are fertile enough to become pregnant within the same month the IUD is removed.
The IUD Removal Process
IUD removal is a simple and quick procedure, but it must be done by your doctor. (If you to remove it yourself, you run the risk of seriously injuring your pelvic organs). No matter what type of IUD you have, you can have it removed at any time. A non-hormonal copper device should be removed after ten years. Hormonal devices have an expiration period that ranges from three to six years. With such a device, you must have it removed upon its expiration. Delaying its removal can complicate the removal process and can leave you unprotected against pregnancy. Leaving an IUD in past its expiration can also create serious health risks for you, such as an increased risk of an ectopic pregnancy, which can result if you become pregnant with an IUD in place.
Your first step in having an IUD removed is to consult with your doctor and schedule an appointment to have it removed. Removal can be done at any time of the month in your cycle. No drugs or anesthesia are needed. Removal is faster and easier than having the IUD inserted.
During the removal procedure, you will lie down on the exam table like you would for a pelvic examination..To remove the IUD, your doctor will insert a speculum and find the IUD strings that hang into your vagina. If needed, your doctor may use a small brush or tool to coax the strings into view.
Once the strings are located, your doctor will use forceps to grasp the strings and pull the IUD gently down through your cervix, through your vagina, and out of your body. You likely will feel a little cramping as it passes through your cervix.
How It Affects Fertility
Whether you used a hormonal IUD or a copper IUD, your body's natural fertility is not affected by the removal procedure. Once your IUD is removed, your menstrual cycle will typically return to normal within a month. It will not be long afterward that you are able to become pregnant.
Fertility Depends on the Type of Contraceptive Device Used
Whichever type of IUD you have, you can consult with your doctor about scheduling an IUD removal procedure at a time in your cycle that will enhance your chances of getting pregnant. Your doctor may recommend that you wait for a cycle or two before you try to get pregnant so that you can pinpoint with better accuracy the date of conception. The removal process may cause minor bleeding and spotting for a couple of days and you may have some difficulty identifying where you are in your menstrual cycle as a result.
Copper IUD
A copper IUD does not use hormones to prevent pregnancy. Copper IUDs work because the copper creates a hostile environment in your uterus for sperm. Your normal menstrual cycle was not affected by a copper IUD; thus, your body does not need any time to return to its normal cycle. Pregnancy can occur immediately upon its removal.
Hormonal IUD
With a hormonal IUD, pregnancy was prevented by releasing progestin hormones into your body. Depending on the type of hormonal IUD you used, the hormones affect your normal menstrual cycle by impairing your body's ability to release a fertile egg. Removing the IUD also removes the hormones that prevent pregnancy. It is therefore possible for you to get pregnant in the first cycle you have without the IUD. In some cases, however, your body may need a week or two to resume its normal cycle before you can become fertile.
Infertility Is Caused by Scarring
Infertility is not caused by the IUD or the removal process. Instead, infertility is caused by disease or infections of the organs and tissues in your pelvic region and the scarring that if often leaves behind. Absent those conditions, your ability to get pregnant after using an IUD is the same as it was before your IUD.
Notwithstanding your immediate fertility, some doctors recommend their patients wait for a cycle or two after IUD removal before trying to conceive. By waiting, it is easier to track your cycle and determine the exact date of conception.
Contact the Experts at Raleigh Gynecology and Wellness for more information about IUD Removal
When you are ready to have your IUD removed, contact the specialists at Raleigh Gynecology and Wellness to schedule an appointment. They are available to answer your questions about what to expect after removal, how to protect your reproductive health, and help you with your goal of getting pregnant.