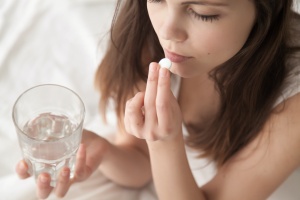 Ella, also known as the morning-after pill, is an emergency one-dose contraceptive pill. It contains 30 mg of ulipristal, which delays your ovulation. If you have had unprotected sex, taking Ella emergency contraception can prevent unplanned pregnancy.
How Effective Is Ella Emergency Contraception?
The ulipristal in Ella emergency contraception is a non-hormonal drug that prevents you from conceiving by interfering with the function of reproductive hormones in your body. Ulipristal is a selective progesterone receptor modulator.
Ella works by delaying or preventing ovulation, which means your body will not release an egg, thus depriving sperm the ability to fertilize an egg. Ella may also work by preventing a fertilized egg from attaching to your uterus.
Ella reduces your chances of getting pregnant by 85 percent if you take it within five days after unprotected sex. It is the most effective morning-after pill available. Ella emergency contraception significantly reduced the pregnancy rate in clinical trials from an expected rate of 5.5% (the number of pregnancies expected without
emergency contraception calculated based on the timing of intercourse with regard to each woman's menstrual cycle) to an observed rate of 2.2%.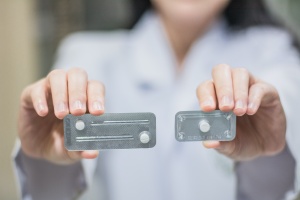 Certain factors can impair the effectiveness of Ella. Obesity appears to be one such factor based on clinical trials. Obese women using Ella were twice as likely to become pregnant compared with non-obese women. Ella emergency contraception works better than other morning-after pills if you weigh up to 195 pounds. However, it seems to be less reliable for women who weigh 195 pounds or more. Other factors that can affect Ella are certain medications and herbal supplements. Before prescribing Ella for you, your healthcare provider will ask you what medications or supplements you are taking. Depending on what prescription medications you are taking, your healthcare provider may recommend a different product for you.
Also, be aware that Ella is formulated to prevent conception and not to induce abortion. Other products will induce abortion, such as RU486, also known as M&M, Mifeprex or mifepristone.
When Should You Take Ella?
You can take Ella any time during your menstrual cycle, with or without food. For Ella to work at its optimum effectiveness, you need to take it immediately after having unprotected sex. It is most effective when taken immediately after but can be effective if taken within 120 hours (five days) of unprotected sex. It works by preventing ovulation, and the sooner you take it after sex, the more reliably it will work. Other emergency contraception products are available, but they are not as long-lasting as Ella. They are FDA-approved to be effective for only up to 72 hours (3 days) after unprotected sex.
How Do You Take Ella?
Ella is a single-dose pill to be taken after unprotected sex. Although Ella remains effective at preventing ovulation for up to five days after it is taken, it should not be relied upon as an effective means of contraception for additional acts of unprotected sex during those five days. The reason is that some sperm from that latest sex can survive after the 5-day window closes. You may ovulate soon after that time period ends. If any sperm is still viable when you ovulate, you can become pregnant. You should not use Ella more than one time in the same menstrual cycle.
Who Should Not Take It?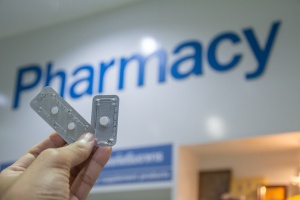 If there is any chance you might be pregnant, you should not take Ella emergency contraception. It is uncertain whether Ella can increase your chances of spontaneous abortion or cause harm to a fetus, though no evidence proves that it does. Your health care provider will give you a pregnancy test before prescribing Ella for you.
Does Ella Emergency Contraception Have Any Side Effects?
Some women experience side effects after taking Ella. Common side effects include changes in your period. Your next period may be heavier or lighter than usual and will likely be earlier or later than usual. Other common side effects include:
Headache (18%)
Nausea (12%)
Abdominal and upper abdominal pain (12%)
Uterine pain during menstruation (10%)
Fatigue (6%)
Dizziness (5%)
If your period is late by one week or more, you should consult with your health care provider to determine whether you are pregnant. If you have severe abdominal pain three to five weeks after taking Ella, you need to consult with your health care provider to rule out an ectopic pregnancy.
Where Can You Get Ella Emergency Contraception?
It is only available by prescription. It can be filled at most pharmacies or online at ellanow.us.
How Much Does Ella Cost?
The price of Ella depends on where you purchase it. You should expect to pay at least $55 for Ella at your local pharmacy. If you use an online prescription service, you can buy it for about $67, but you will have the convenience of free shipping and next-day delivery.
Talk with the Experts at Raleigh Gynecology and Wellness for More Information about Ella and Hormonal Contraceptives
It is a good idea to have Ella on hand as a back-up to cover you should your regular contraception method fail for any reason. Contact the women's health experts at Raleigh Gynecology and Wellness for more information about Ella emergency contraception and other hormonal contraception methods. They can answer any of your questions and schedule an appointment.