In the weeks and months after giving birth, many women experience postpartum pain. This can be a very challenging problem to deal with on top of the sleep deprivation and emotions that often come with taking care of a new baby. However, it is important to take some time for self-care so you can feel better physically and mentally, and pelvic floor therapy is an excellent way to get relief.
What Is Pelvic Floor Therapy?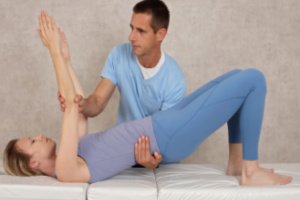 Although the name "pelvic floor therapy" may sound intimidating, it is simply a form of physical therapy that is directed at the pelvic floor. The pelvic floor contains the group of muscles that are responsible for keeping your pelvic organs in place, such as the bladder, cervix, vagina, rectum, uterus, and urethra.
How Do Pregnancy and Childbirth Lead To Pelvic Floor Issues?
When the ligaments and muscles that surround the pelvic floor are weakened, strained, or injured, it can lead to a range of problems and pain. While injuries, obesity, and age can all contribute to pelvic floor problems, pregnancy and childbirth are a major cause of issues such as pain, discomfort, and incontinence.
When you are pregnant, your body releases relaxin, a hormone that loosens your joints and ligaments while relaxing your muscles to prepare your body for delivery. Although this is a very useful function, it can lead to excessive joint motion in the pelvis.
In addition, the muscle imbalances and posture changes experienced by your growing body during pregnancy can put pressure on this area. Vaginal deliveries, meanwhile, can cause pelvic floor tightness or muscle weakness that persists for a long time, particularly if you had a long labor.
How Does Pelvic Floor Therapy for Postpartum Pain Help?
Many women are referred to pelvic floor physical therapy after giving birth for help strengthening weakened pelvic floor muscles or assistance relaxing those that are too tight. It may release trigger points, which are areas where tissues have adhered to one another and become stuck instead of sliding easily against one another. It can improve posture and alleviate muscle imbalance.
Signs You Need Pelvic Floor Physical Therapy
It is important to tell your doctor if you are experiencing the following symptoms after giving birth so they can refer you to a pelvic floor physical therapist if needed.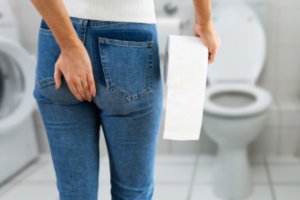 Urinary or bowel incontinence
Trouble inserting tampons
Pressure in the pelvic area
Pain in the area of skin between the vagina and anus
Numbness or pain in the tailbone, vulva, pelvis, hips, spine, ribs, back, or legs
Chronic constipation
Hemorrhoids
Painful urination
Weak or tight muscles in the abdomen
Painful postpartum sex
Trouble getting into and out of chairs, cars, or beds
What Does Pelvic Floor Physical Therapy Entail?
In pelvic floor physical therapy, you will discuss your symptoms and medical history in detail with your physical therapist, who will also perform some exams to check your posture, muscle strength, and other metrics depending on your symptoms. Once they have diagnosed the cause of the problem, they will create a treatment plan.
Some of the techniques that may be involved include:
Exercises
Your therapist will help you perform exercises that you can carry out at home to strengthen any weak muscles or relax those that are tight. You may also learn relaxation techniques, such as yoga poses and breathing exercises that can help facilitate healing.
One type of movement that may be recommended is Kegel exercises. These can serve to strengthen weakened muscles supporting your bladder, large intestine, or uterus, and they can help with incontinence. However, they are not the solution for everyone and may make some people's symptoms worse, so only perform these moves if your physical therapist recommends them and ensure that you are doing them properly to avoid causing further damage.
Manual Therapy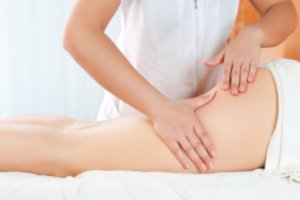 Some women will need manual therapy, which involves a massage of their pelvis, thighs, buttocks, or the tissue inside the vagina to stretch the area and release any trigger points that could be causing pain. Therapists are trained to carry this out delicately, and although there might be some discomfort when they press on a particularly tight muscle, this will usually be followed by a sense of relief as the tightness eases.
Other Treatments
Depending on the condition you are treating, your therapist might use approaches such as ultrasound, cold and heat therapies, or electric stimulation. In addition, they may suggest companion treatments such as acupuncture, stress control, or cognitive behavioral therapy, all of which can be useful for those with chronic pain. Some women may also be instructed to use pelvic or lumbar support, such as belts or pillows.
Discuss Your Postpartum Pain With the Women's Healthcare Professionals
To find out more about whether pelvic floor physical therapy can alleviate your symptoms, make an appointment to discuss your postpartum pain with the women's healthcare team at Raleigh Gynecology & Wellness.