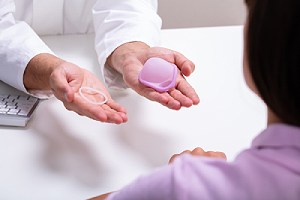 Barrier contraception methods prevent pregnancy by blocking the sperm from reaching an egg and fertilizing it. Barrier contraceptives consist of a range of devices and medically formulated substances. Each has its advantages and disadvantages, as described below.
Types of Barrier Contraceptives and Their Pros and Cons
Barrier contraceptives are popular because they are easy to use and most are easily obtained from any pharmacy, grocery store, convenience store, or online store. They are relatively safe because they do not introduce hormones or chemical substances into the woman's body. Although hormonal contraceptives are more effective than barrier contraceptives in preventing pregnancy, hormonal contraceptives are not safe for some women with certain health conditions. Also, some women object to the idea of ingesting hormonal substances, and other women experience unpleasant side effects. Barrier contraceptives are a viable alternative for all of those women.
Male Condom
Male condoms are the most commonly used barrier method. Male condoms are usually the first type of contraceptive that young people use. Condoms are available made of latex, polyurethane, or lambskin. Some are coated with silicone, water-based gel, or spermicide. Use of the male condom is controlled by the male. The male condom wraps the penis during sex and blocks semen from entering your vagina.
Pros: Easily available and affordable, condoms can prevent the spread of STDs when used properly.
Cons: Effectiveness as a contraceptive is compromised when the condom is damaged or not used properly. Using a male condom requires a pause just before the sex act resulting in people foregoing using it at all. It can reduce sensitivity during sex. Condoms can only be used once—a new condom must be used for each act of sex.
Female Condom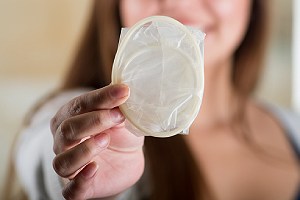 The female condom is a thin membrane that is placed inside the vagina no more than eight hours before having sex. Use of the female condom is controlled by the female. With a female condom, a male condom cannot be used.
Pros: The female condom is less likely to tear than the male condom. Like the male condom, the female condom also helps prevent the spread of some STDs.
Cons: Can become dislodged or the penis can penetrate between the membrane and the vagina. Can be uncomfortable for the woman. Can only be used once. A new condom must be inserted for each act of sex.
Contraceptive Sponge
A contraceptive sponge is a small, round sponge that is placed in the vagina near your cervix before sex. It is infused with a spermicidal substance. The sponge helps to block sperm from reaching your cervix and also kills sperm that comes into contact with the sponge.
Pros: You can have sex more than once with the sponge left in place. You can leave the sponge in place for up to 24 hours.
Cons: Requires planning Not as effective in preventing pregnancy for women who have had a vaginal birth.
Vaginal Spermicide
Vaginal spermicides kill sperm or inhibit sperm from reaching an egg. If you use a spermicidal tablet or suppository, you must insert it into your vagina about 30 minutes before having sex. Creams, foams and gels are inserted just before sex. They start working up to 15 minutes after applying them and are effective for up to 60 minutes.
Pros: Can be used in combination with some other barrier methods
Cons: Spermicides are not very effective when used alone. They work best when used with other barrier contraceptives. You have to reapply spermicide before each act of sex. Also, you must leave it in place for at least 6 hours after you apply it. Spermicide may irritate vaginal mucosa. They can be difficult to find in local stores.
Diaphragm
A diaphragm is a soft silicone dome that covers the cervix to block sperm from entering the uterus. It can be inserted three hours before sex and left in place during sex and for at least six hours afterward. It must be removed within 24 hours after sex.
Pros: An advantage of the diaphragm over a condom is you can have sex more than one time with the diaphragm left in place.
Cons: To get a diaphragm, you will need an appointment with your healthcare provider for an examination and fitting. A diaphragm requires planning and careful insertion, as well as the use of spermicide for maximum protection. Users will need a re-fitting after weight gain or pregnancy. It can create a higher risk of urinary tract infections
Cervical Cap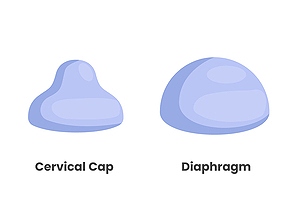 The cervical cap is similar to a diaphragm. It is a small rubber cap that covers the cervix to block sperm from entering the uterus. You must insert the cap before sex and leave it in place for up to eight hours afterward. Like the diaphragm, you can have sex more than one time with the cap left in place. However, you should remove it within 48 hours after having sex.
Pros: Same as a diaphragm.
Cons: Same as a diaphragm. Not as effective in preventing pregnancy for women who have had a vaginal birth.
Drawbacks of Barrier Contraceptives
Barrier methods of contraception are not as effective in preventing pregnancy as many hormonal methods of contraception. The reason for this is that barrier contraceptives are subject to being damaged and improperly used. For that reason, barrier contraceptives are only about 70-75% effective. That means that of 100 women who use barrier contraceptives per year, around 20 or 25 of them will become pregnant.
The most effective barrier contraceptives in preventing pregnancy are the male condom and diaphragm.
Contact Our Specialists to Learn More About Your Options
Barrier contraceptives are convenient and affordable. Many women use them to avoid health risks associated with hormonal contraceptives. To learn more about your options for contraceptive methods, contact the women's health experts at Raleigh Gynecology and Wellness. They are available to answer your questions and schedule an appointment with one of their experienced professionals.