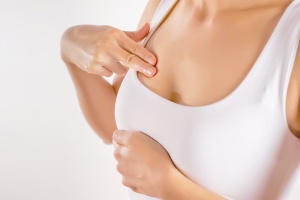 A healthy breast care routine should start with regular self-examinations. Self-examinations are not a substitute for regular visits to your doctor or appropriately scheduled mammograms.
However, keeping up with self-examinations will make you better able to notice changes in your breasts between your doctor visits.
Many changes in your breasts are normal, while other changes warrant a visit to your doctor. How can you tell the difference?
Importance of Self-Examinations
With regular self-examinations, you are more likely to notice changes in your breasts when the changes first appear. The growth of cancer can cause some changes in your breasts.
As cancer progresses, it grows and pushes normal breast tissues out of its way, resulting which may result in changes in the shape of your breasts, your breast skin texture, or the appearance of your nipples.
Performing regular self-examinations can increase your chances of detecting cancer at an early stage in its development. Early detection is key to successful treatment before it has a chance to become a life-threatening condition.
If you notice any abnormalities in your breasts during your self-examination, you should make an appointment with your doctor as soon as you can. Your doctor will examine you and may schedule you for a mammogram to determine if the abnormality is something that warrants further testing.
How to Perform a Self-Examination of Your Breasts
The best time to perform a self-exam is the week after the end of your period. Your hormone levels are more stable right after your menstrual cycle, and the cyclical tenderness and swelling have disappeared.
Position yourself in front of a mirror with bare breasts. Conduct a visual examination of your breasts with your arms raised overhead and then with your hands pressed on your hips. Note any puckering, dimpling, changes in size, shape or symmetry, or nipples appearing to be pushing inward rather than pushing out in front.
After the visual inspection, lie down on a flat surface. Using the pads of your middle three fingers (not your fingertips), feel the tissue closest to the skin by applying light pressure.
Then use medium pressure to feel a little deeper and firmer pressure to feel the tissue closest to the chest and ribs. Move your fingers to another spot on your breast and repeat the process. Move around your breast methodically as you examine your entire breast and your nipples.
Common Signs of Cancer in the Breasts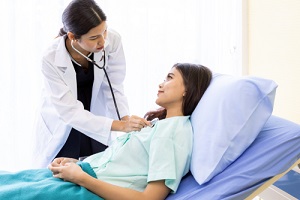 Below are some of the most common signs of cancer, especially if they occur in only one breast:
Changes in Nipples or the Skin of Your Breasts — Dimpling, Pain or Nipple Discharge
Sudden changes in the shape, size and color of your nipples after you reach puberty are not normal.
Any changes in the appearance of your nipples such as inversion or retraction– meaning that one or both of your nipples has taken on a sucking-in or pushed-in appearance– and certainly a discharge from one of your nipples that is new or unexplainable, are all reasons to seek a medical examination.
A discharge is not always a symptom of cancer but any abnormal discharge, especially a bloody discharge, should be checked by your doctor nonetheless.
Likewise, you should see your doctor if you notice any changes in the skin of your breasts. Symptoms such as persistent redness, an itchy or scaly rash, dimpling, puckering, ridges, or other changes in the skin on or around the nipple warrant an examination by your doctor.
Hard Lump or Knot on the Breast or Underarm
Most women know that one of the telltale signs of possible cancer is a hard lump on either breast or in the area under either of your arms. A lump, even a tiny lump, is reason to schedule an appointment with your doctor as soon as possible.
Lumps may be a benign cyst, or it can be a cancerous mass, and knowing which is crucial. An abnormal lump will feel different from the natural lumpy feel of your breast tissues and glands. Dangerous lumps will often feel hard and they often have irregular edges.
Some cancerous lumps are painful to the touch but are rounded or have a softer feeling. Thus, it is imperative that your doctor examine any new lump.
Swelling, Warmth and Redness
A hard lump is not the only sign to watch out for. Another symptom of breast cancer is irregular swelling, warmth, and redness of your breast.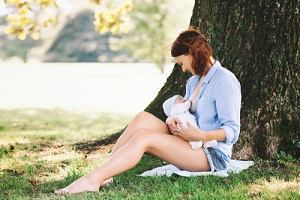 Swelling and redness can be a symptom of a rare form of inflammatory breast cancer. With inflammatory breast cancer, the skin of your breast can appear pink, purple or even bruised.
Breast tenderness and swelling during menstruation is normal. What is not normal is persistent tenderness and swelling accompanied by discoloration or redness that lasts longer than one week. The abnormal swelling could be due to the cancer irritating or blocking normal breast function.
Contact Raleigh Gynecology and Wellness for More Info On Breast Care Routine
If you have any questions about the signs of breast cancer and what to do if you notice any of them, contact the specialists at Raleigh Gynecology. They can discuss your symptoms and schedule an appointment for a full examination.