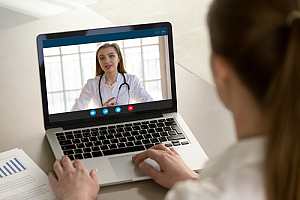 During the COVID-19 outbreak, it is increasingly important for patients that do not have life threatening illnesses to receive treatment at home. If you have been exposed to the virus, traveled internationally, or if you are currently experiencing related symptoms (fever and/or respiratory distress) we ask that you please schedule a telemedicine visit to address your concerns. Thank you for your cooperation.
---
It is extremely important for women to receive gynecological care, even when they cannot physically visit the office. Raleigh Gynecology & Wellness offers telemedicine appointments for new and existing patients who are on the go, feeling ill, or must stay at home. With a telemedicine appointment, you can expect to receive the same level of care and support that you normally would through an in-person appointment.
What is Telemedicine?
Telemedicine is the practice of conducting appointments remotely through the use of a secure video application. Patients can discuss any issues they are experiencing, as well as receive a diagnosis and treatment options during a telemedicine visit. Telemedicine visits can be held anywhere there is a proper internet connection, so both the patient and the healthcare provider can speak from the comfort of their own homes.
How is Telemedicine Conducted?
There are several different ways telemedicine appointments can be conducted. When a patient opts for a telemedicine appointment at Raleigh Gynecology & Wellness, she will receive login credentials via text or email that will be used to connect virtually to one of our GYNs and/or nurses. Since we cannot physically check or screen patients online, we generally ask our patients to give the best description of the condition(s) possible in order to provide an accurate diagnosis.
What are the Benefits?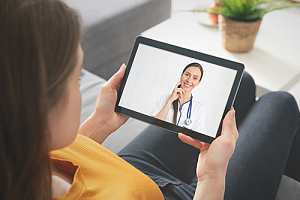 One of the primary benefits of receiving a telemedicine appointment is the ability to safely meet with your healthcare provider from anywhere. For instance, if you are at home watching the kids, you can connect virtually to your doctor within a few minutes. Patients also do not have to commute to and from the office, saving both time and money.
Another added benefit to telemedicine is that it requires the use of a secure, HIPAA-compliant web application by law. This should alleviate any concerns regarding whether a conversation will remain confident or not. Telemedicine applications are well-encrypted and prevent any information from the call or chat to be distributed. When choosing to receive an appointment online, you can be assured that your information will be kept safe 100% of the time, just as in regular office visits.
Speak to Raleigh Gynecology for More Information
If you are in need of care but require an alternative to attending the office, we will be happy to conduct a telemedicine appointment to provide the professional support and attention you need. Furthermore, our GYNs can provide treatment options during the appointment, including prescription medication if necessary. For more information regarding telemedicine or to schedule your virtual appointment, please give Raleigh Gynecology & Wellness a call at 919.636.6670 or schedule an appointment online.
Telemedicine Visit Instructions for iPhone